Analyze permissions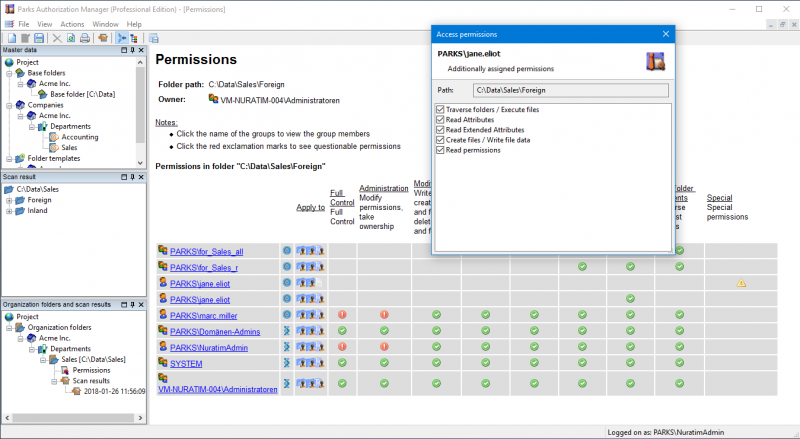 Create transparency in access permissions
Analyse the permissions for your folders at all times with PAM. Win new insights into the permissions and groups of existing server systems. Problems can be recognised and corrected much quicker. Important information for audit and compliance reports is obtainable with the help of the analysis functions.
How does Parks Authorization Manager help you?
The file system is one of the most important parts of the operation system. Users nearly always come in contact with this as they store and edit their data there. A well-designed file structure is therefore important for an optimal support of users.
Requirements change over the years, projects and restructuring in the organisation necessitate adaptations. New folders are set up, Active Directory groups for permissions generated and allocated to users. A difficult and unclear chaos results out of what was once an originally well-thought-out structure:
the folder structure of similar folders (e.g. for departments) is no longer consistent,
it is no longer directly visible which Active Directory group is connected to which folder rights,
the name regulations for the Active Directory groups are not always adhered to,
when requested by users, it becomes difficult for administrators to allocate the correct Active Directory groups without causing unwanted side effects.
Result: Users have rights which they do not – or no longer – need, they can access files which they may not use for their specialist tasks, transparency and compliance regulations are undermined as no easy overview is possible.
With the Parks Authorization Manager (PAM) you can
support users when they have access problems,
document permissions in the file system,
administer folder structures and Active Directory groups per their required standards.